We're quickly approaching a time of year that too-often overwhelms many stakeholders throughout the healthcare industry: insurance reverification season- known to some as blizzard season.
While the thought of tackling this annual reverification process may bring a sense of dread to some organizations, many leaders are finding that the right approach coupled with the right technology is helping them tackle this annual challenge both efficiently and painlessly— all while improving patient adherence and treatment outcomes.
How Does Benefits Reverification Season Impact Providers and Patients?
Between November and January, most health insurance plans institute policy changes, sometimes adding or removing which services they cover.
At the same time, patient deductibles and out-of-pocket maximums reset for the new benefit year. Though it happens annually, patients aren't always prepared for the changes that will go into effect. That can prove problematic for providers and patients alike—especially those receiving specialty treatments.
At some point during the year, once patients satisfy their annual deductibles and reach their out-of-pocket thresholds, they start to receive treatments and prescriptions at no cost. But when each new benefit year begins, said patients find their deductible threshold meter has "reset" so to speak- resulting in unexpected out-of-pocket charges. Worse, they may be denied access to healthcare services until a new prior authorization is received, thus delaying their access to potentially life-saving treatment. Additionally, if patients who use financial assistance programs need to re-enroll each year but don't remember to do so, they could be left with medical bills they simply can't afford.
Your Benefits Reverification Support Checklist
For manufacturers looking to streamline this process and avoid aforementioned disruptions, ensuring that the annual insurance reverification season goes smoothly for your brand requires a methodical approach.
By following proven best practices gleaned from CareMetx's track record of conquering blizzard season on behalf of our clients, you can minimize the disruption caused by reverification season, get through this challenging time more effectively and efficiently, and help keep your patients on their treatment.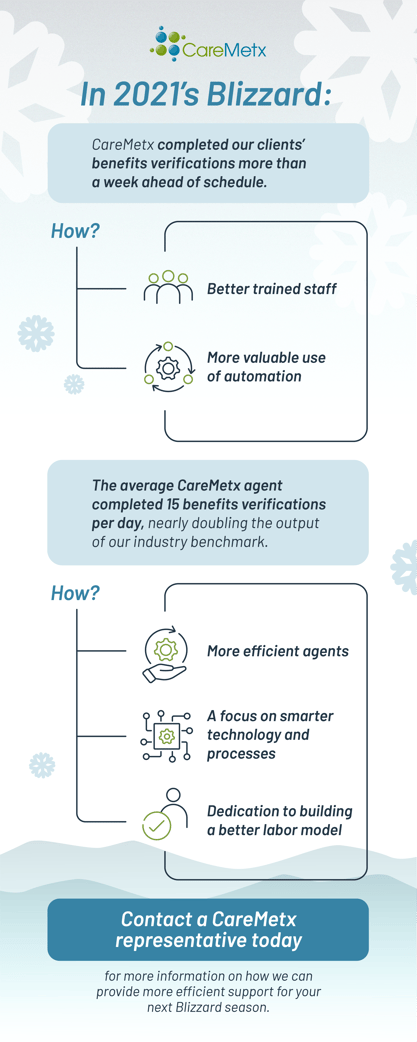 Communicate early and often. The sooner you start calling attention to the reverification process, the more you can plan, and the less of a crunch you'll face in late December and early January.
Partner with a trusted organization that can provide proven support. It's no secret that experience fosters efficiency in this complex space. In 2021's Blizzard, CareMetx completed our clients' benefits verifications more than a week ahead of schedule. During that time, the average CareMetx agent completed 15 benefits verifications per day.
Embrace Hub Technology. Digitally enabled platform hub services can streamline the benefit verification and prior authorization processes year-round, but they're especially beneficial during blizzard season.
Handling a high volume of reverifications manually is time consuming and error prone. Technology that connects specialty pharmaceutical manufacturers, patients, and providers speeds the process and improves accuracy. CareMetx Digital Hub is a comprehensive platform for addressing the complexities of specialty reimbursement.
Learn more about CareMetx Hub Services.
"CareMetx is the industry leader in automated Benefit Verifications," shares CareMetx Chief Strategy Officer Greg Morris.
"Our proprietary process combines our extensive payer connectivity and rules engine with specialized benefit verification team members to generate scalable benefit verification results that are consistently 2x more efficient than industry standards."
Learn more about CareMetx's eServices.
Find an organization with a detailed process for reverifying all benefits. At CareMetx, we process an average of 2,500 benefits verifications every day. We know from experience how important it is to make sure everyone on staff is clear on how to handle treatments for patients whose benefits haven't been reverified yet. This includes checking prior authorizations for all patients regardless of whether their insurance has changed, how to enter updated information into the proper systems, and how to notify any third parties involved.
Learn more about CareMetx Benefits Reverification Support
Learn More About CareMetx Benefits Reverification Support
It's time to take the chaos and uncertainty out of reverification season- for manufacturers, for providers, and most importantly- for patients.
For leaders who are ready to improve the insurance verification and prior authorization process—both during blizzard season and year-round, contact CareMetx to learn about the hub services technology that's helping leading organizations streamline these processes every day.
Subscribe to our newsletter